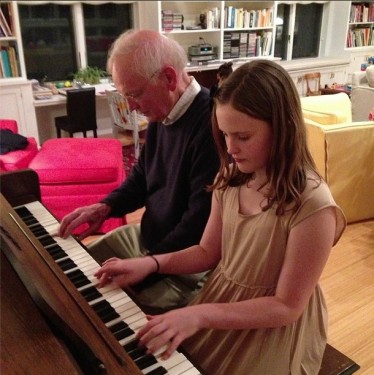 This week belongs to DAD!
Tuesday, June 10, 2014
THE DADS OF CLEMENTINE!
Bapa and Eleanor.
Finally, we celebrate the dad of the store. Bapa, as he is known to his granddaughter and to patrons of Clementine, is store owner Cara's father. Always willing to give a helping hand and a warm smile, we can't imagine running the store without his help.
Hope you have a wonderful Father's Day, Bapa!
Luke, with son Miles.
Luke is happiest when hanging out with son, Miles.
Happy Father's Day, Luke!
Charlie, with daughter Vivi.
Charlie says that everyday is a day of celebration since the adoption of Vivi was finalized. Those big smiles are a permanate fixture on their faces now.
Happy Father's Day, Charlie!!
(Little Vivi is wearing a dress from Clementine.)
**Bonus**
Charlie's wife, and Vivi's mom, is Jan Brown. Jan is a coach for moms looking to get back into the work force. You can find more information about her at www.janbrowncoaching.com.
Mitchell, with daughter Reeve.
Everyone knows real dads will wear barrettes!
Clementine dad, Mitchell, sports a rose in his hair for daughter, Reeve. One year old, Reeve has been a Clementine shopper since before she was born and especially loves the fashionable finds in the buckets. However, her favorite thing about shopping at Clementine is playing with the toys while Mom and Dad focus on the clothes and shoes.

Happy Father's Day Mitchell!
Lando, with daughter Pia.
Lando has been a customer of Clementine's for 2 years! His daughter Pia is wearing one of his favorite items found in the store, a pink Bonpoint vest. The little vest may be his favorite, but he keeps coming back for all the wonderful dresses and coats that can be found at Clementine.
Happy Father's Day, Lando!
Be sure to stop by the store on Father's Day! We'll be serving up champagne from Bottle Rocket, and a 10% discount for all dads that stop by!