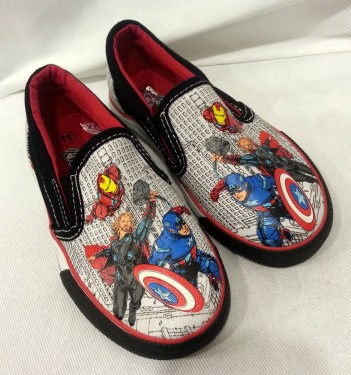 Super Clementine!
Thursday, October 10, 2013
Anyone else a big fan of comics? Anyone else going to New York ComiCon? I'll be there all four days, and I know Sunday is the designated kid's day, so I wanted to take a moment and give a shout out to all the cute superhero items we have in the store. These would look great on both a little boy AND a little girl!
Um, I love this shirt. So cute.
0-6 mo. $9.99
Sometimes all you need is the iconic symbol.
Batman shirt (with attached cape!), size 18mo. $9.99
Superman shirt, size 3. $9.99
Spiderman sweatshirt, size 3. $11.99
Superman shirt, size 6. $13.99
Yeah, I would totally wear these if they were my size.
Avenger Vans, size 11. $14.99
Want to dress your little dude or dudette up for the Con?
How about a little Superman costume?
12-18mo. $12.99
Love this Captain America costume!
12-18mo, $16.99