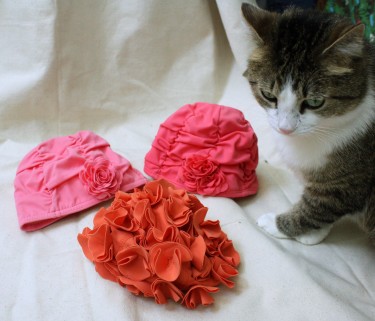 Spring Hats!
Tuesday, April 29, 2014
I don't know about you, but I was loving all the sunshine this weekend! Now that the sun is in full effect, it is time to switch out those knitted beanies for some cute sun hats. We have two full drawers of hats in the store right now, so be sure to stop by on the way to the playground and pick one up!
Swim caps!
Top left light pink cap by Janie & Jack. Size 6-12mo. $8.99
Top right pink cap by Janie & Jack. Size 12-24mo. $8.99
Bottom orange cap by Gap. Size 6-12mo. $5.99
Reversible sun hat by Mini Boden, size medium. $12.99
New with tags sunhat by iPlay, size 2-4. $9.99
Big fun floppy hat by Gap, size 6-12mo. $4.99
Jacadi sunhats!
White hat - size 51 (2-3yrs), $14.99
Plaid hat - size 41 (1mo.), $14.49
Bucket hats.
Striped hat by Takashimaya, size 12mo. $6.99
Navy hat by Makie, infant size. $14.99
Fun prints!
Purple hat by iPlay, size 0-6mo. $4.99
Surfboard and Studebaker print hat by Milk and Honey, size large. $9.99