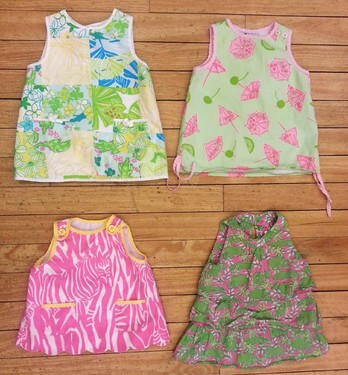 Lilly Pulitzer 1931-2013
Thursday, April 11, 2013
Lilly Pulitzer, queen of the Palm Beach print, died on Sunday. She was 81.
It is hard to imagine, but the creator of such colorful and playful prints that would go on to inspire countless other designers, got into the fashion game almost by accident. According to the NY Times:
In 1959, after opening a juice stand among the citrus groves of Palm Beach, Ms. Pulitzer, an heiress herself who had married young into the wealthy publishing family, needed a dress that would camouflage the stains of orange and grapefruit spills. So she had one made, creating a look that proved to be so popular it would become a mark of membership for old-money families at play for more than five decades. Her vividly flowered housedresses became known, in the shorthand of the rich, simply as Lillys.
After a fifteen year absence from the fashion scene, the label was revived in the 1990s and continues to thrive today.
Both dresses are size 3T, and $16.99
Top shorts - size 2, $14.99
Bottom skort - size 4, $20
Clockwise from top left:
12-18mo. $16.99
9mo. $13.99
3-6mo. $16.99
12-18mo. $17.99