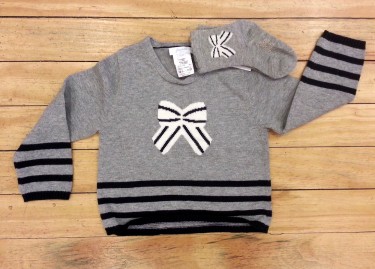 Fall into Baby Girl!
Saturday, August 17, 2013
Again, thanks to the huge sale going on in the store right now, our shelves are being emptied at a fast pace! Empty shelves need to be filled, and what better way to fill them up than with some really great Fall items! All day yesterday, I worked on putting out new baby girl Fall items. Check out some of the great items I found that are out on the floor NOW!
Knit romper by Tartine et Chocolat, size 1mo. $19.99
Baby girl cardigans!
Top: Pink cardigan by Baby Dior, size 6mo. $19.99
Middle: White beaded cardigan by Elsy, size 9mo. $21.99
Bottom: Brown cardigan by Jacadi, size 3-6mo. $19.99
Pants by Lucky Wang. Both size 6mo. $17.99 each.
Sweater with matching socks by Jacadi, size 12mo. $29.99
Deer print dress by Albert, size 12mo. $16.99
Corduroy tank dress by Mini Boden, size 3-6mo. $17.99